Hotties 'n' Notties: Taylor Wilde, JTG & more
|
Who was hot and who was not this week in wrestling?
However, this isn't your usual "who did good and who did bad" style column. No, this is the literal look at who actually looked sexy this week and who, well, didn't.
Last week's winner of the 'who do you think looked best this week' poll with over half of the final vote was *drumroll please* Ms. Tessmacher! – Well duh she's a right little hot piece of ass.
The winners of the 'who do you think looked worst this week' poll tying in first place were – Curt Hawkins and Phantasio. Come on Curt at least Phantasio has a reason for looking like he did (it was his gimmick and well, it was the 90's) but sadly Curt you don't have such a reason.
Numero Uno hottie of the week goes to Taylor Wilde.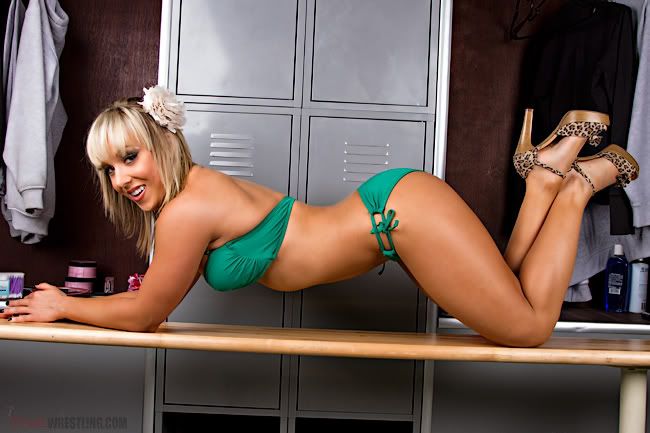 Oh Taylor you are the wonderful ray of sunshine in my life. You're my absolute favourite knockout – Miss Wilde is an amazing wrestler, she is beautiful on both the outside and the inside, wears a cute little skirt as attire and our names are eerily similar so she trumps all the other knockouts based on the last fact alone.
Taylor gives off a 50's pin-up vibe in this photoshoot in her figure fitting green bikini and the flower in her weave-free hair makes her very Bettie Page esque (let's just hope she doesn't go for a Bettie Page style bang  – I've been there and I really regret it – darn letting hairdressers do what they want with my hair.)
She can pull of sexy really easily, what with the mens magazine pose yet stay utterly cute at the same time with her beautiful smile. Oh and those legs = wow.
I just hope TNA start using her correctly again and give her back the TNA Women's Knockouts Championship ASAP.
Second hottie of the week goes to Gail Kim.
Whoopee Summer is officially here (well, erm in the northern hemisphere) thus leading all the TNA knockouts and WWE divas to start donning their bikinis.
And it doesn't get much better than the absolutely astounding former womans champion Gail Kim.
The glamorous gold tight in just the right places bikini looks gorgeous on her perfectly toned and tanned (although she could of applied the fake tan around her ankles a bit better) body.
Her nude peeptoe shoe boots are extremely OTM and I'm running down to my nearest shoe shop tomorrow to get myself a pair.
One thing that bugs me about this picture though is that the pose and windswept hair looks like she should be laying on the beach but instead she is stuck in a black studio – it would of looked a million times better on some picturesque golden sands.
Tiffany is my inbetweener choice this week.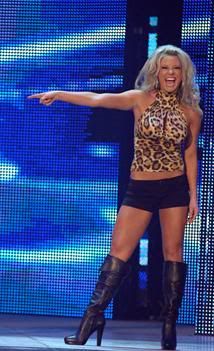 Now I personally think Tiffany is the most beautiful Diva in the whole of WWE and every time I see her I fall a bit further in love with her. But then she talks about Drew on twitter and I get madly jealous and hate her. Then she reappears, tweets again and well it's just a great big vicious circle.
But the now Mrs. Galloway (ggggrrrrr) always leaves me a bit disappointed whenever she comes down to the ring in 'street clothes' – actually here she looks like she has just stepped off the street corner.
I'm all for leopard print but even I think her top is all kinds of trashtasic – and not trashy in the good way. My fashion bible tells me that the shorter the hem the lower the heel and Tiffany seems to be ignoring this to live by fact with her hot pants and pretty woman-esque boots.
But Tiffany you are shockingly stunning (well, when you keep your mouth closed) so I shall let you off – well only if you give me MY Drew back!
First nottie of the week goes to JTG.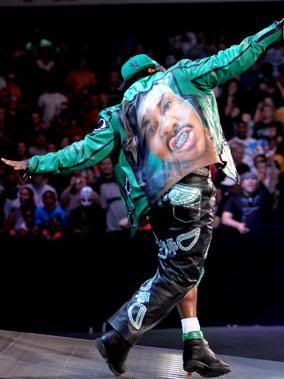 Now I'm all up for a bit of personalisation seeing as my name never ever appears on anything. So whenever there is a chance to get a personalised item I jump at the chance – I have pens, necklaces and even books with my name printed all over them. But even I think having my face embezzled on a jacket is going a bit too far.
This monstrosity and the hot mess that was Curt's blazer last week is making me start to hate the fact that wrestlers wear coats down to the ring – and I thought that day would never come.
Plus the green matchy matchy-ness looks as though his mommy dressed him up before coming out to the ring – it's always better to clash a bit rather then look too put together folks.
Unfortunately for my sakes as I love the bitching but for the wrestlers' sake there were no other notties this week :-(.
Looking on the bright side, maybe they have all been reading this column and have started to take my advice and invested in some new clothes (I'm looking at you in particular John Morrison.)
However, I shall not be beaten! And in this up and coming week of wrestling I shall keep an extra beady eye out so (Koko) b.ware!
Please vote in the poll below on who you think looked the best and the worst this week:
http://micropoll.com/t/KDwQ9ZBKxr – best
http://micropoll.com/t/KDwQ9ZBKxs – worst
Also if you see any hotties or notties this week in wrestling or have a vintage pick you want to see in the column please just leave a comment below.
Tags: divas, Gail Kim, hotties, Hotties 'n' Notties, JTG, Knockouts, money in the bank, notties, Raw, Smackdown, Taylor Wilde, tiffany, TNA, WWE, WWE Superstars