Hotties 'n' Notties: Rosa Mendes, Eric Young & Sheamus.
|
Who was hot and who was not this week in wrestling?

However, this isn't your usual "who did good and who did bad" style column. No, this is the literal look at who's hot, who's not and who wore what this week.
Last week's winner of the'who is your hottie of the week' poll with just one vote between first and second place was Miss USA – she fulfils her job title awfully well doesn't she?
The winners of the 'who is your nottie of week' poll tying in first place were Sheamus and Tamina – time for an overall change for these guys I think and well, everything certainly is turned upside down this week.
Numero Uno hottie of the week is Rosa Mendes.
Oh Rosa, you stunningly gorgeous woman you. Miss Mendes finally came back to Smackdown this week along with a whole new hottie look. The once protégée of Beth Phoenix has dyed her former brassy blonde locks to a new sexy and a lot more flattering beautiful brunette colour. The delicate curls and a hella lot of backcombing are an almost a worthy opponent to Cheryl Cole's perfect do.
Her new found attire moulds to her body perfectly plus she is wearing tights so of course that means I love her. The see through panels are a daring but bang on trend choice and the bewitching blue colour suits Rosa down to a T.
The only thing that needs to go away ASAP are the rhinestone buckles, you're a 'wrestler' Rosa, not a twelve-year-old at a school disco.
Second prize goes to Tamina.

Well congratulations Tamina, you have done something that nobody has been able to do before – you've come from the very bottom of the chart and straight up to the top in just one week. Now, the dress may look like something that would cost £5 in one of those horrible trashy clubwear shops but it's a vast improvement from the flower adorned shorts and vest combo she wore last week.
The belt is all kinds of amazing though – who doesn't love a bucketful of studs? My only gripe is that it needs to be worn a few inches higher to turn the outfit from blah to ta-da.
Plus, the new poker straight hairstyle makes Miss Snuka look incredibly gorgeous – I just hope she hasn't damaged her locks too much.
Eric Young is my inbetweener choice this week.
Ah Eric Young, you crazy cat, I don't fully understand this outfit but I know that I love it. Let's start from the bottom – we'll ignore the trunks for the time being. Chaps are now my new secret fashion love – just these pair though, not so much the PVC Christina Aguilera type. I LOVE the tassels (just seen) and the camel colour is this season's biggest fashion must-do so mega props to you EY. The black waistcoat is a definite wardrobe staple and the straw cowboy hat is a must have for Spring/Summer '11.
But the one little (literally) thing that lets him down is those trunks. Oh dear god they were even tighter then Mr David Otungas and oh, boy that is saying something.
First nottie of the week is Mr Anderson.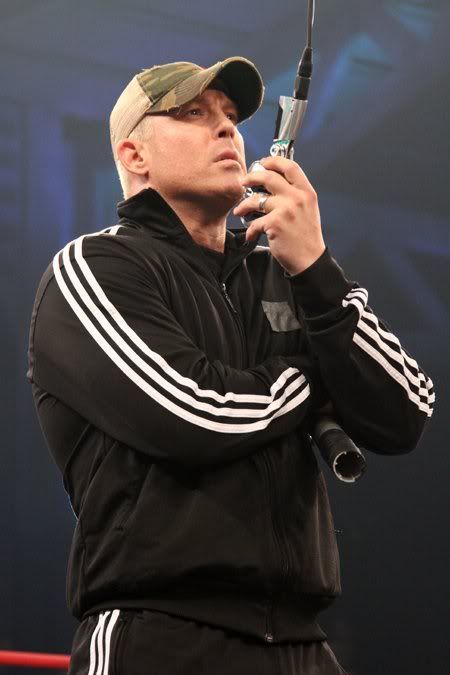 Dear Mr Anderson, last time I checked you were a 34-year-old man and not a 14-year-old chav.
Why, oh, why did you think the whole matching trackie top and bottoms look was all of a sudden an acceptable outfit to wear in public? Plus topping it off with a baseball cap, are you for real? – if you dared to set foot in my local shopping centre looking like this you would be thrown out immediately due to the fact that you defiantly look like the type who steals microwave meals from Iceland.
Go on, let Orlando Jordan give you a makeover, you would look hell of a lot better in a pair of shockingly tight pink shorts and a feather boa thrown around your hips then you currently do in this hot mess.
In last place as my most not-hot person is Sheamus.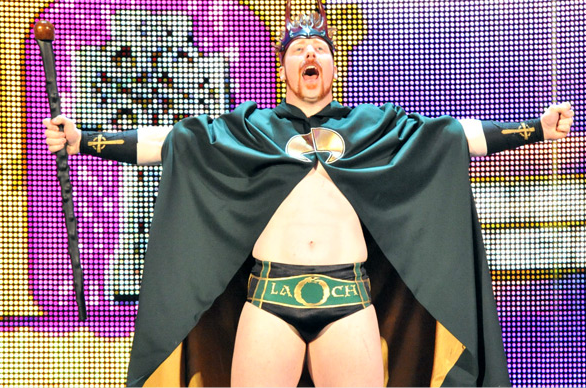 *sighs* Sheamus , Sheamus, Sheamus – after all that love and praise I gave you last week you run off and go do this! You have indefinitely been stripped off the title of 'Chantal's man of the moment' (yes Cody, you can have it back now) and are now my ultimate nottie of the week.
I will let you off for one thing though – that cape is truly extraordinary (even if it is poorly made) and once you're through with it may I have it please? But the praise stops right now, yes the new found sceptre is a major step up from the beach ball on a broom but it's still fake-ass looking – I think even poundland would be embarrassed to stock such a thing.
And that 'crown' of yours? – well, that just plain terrifies me and I know it's going to show up in my nightmares tonight *eeek!*
Please vote in the poll below on your numuro uno hottie and not hot nottie of the week:
http://micropoll.com/t/KDwQ9ZBmJl -hottie.
http://micropoll.com/t/KDwQ9ZBmJm -nottie.
If you see any hotties or notties this week in wrestling or have a vintage pick you would like to see featured in the column please just leave a comment below.
Tags: Beth Phoenix, chantal, Eric Young, hotties, Hotties 'n' Notties, mr anderson, notties, orlando jordan, Raw, Rima Fakih, Rosa Mendes, sheamus, Smackdown, tamina, TNA, tna impact, WWE, WWE RAW, WWE Smackdown