Who was hot and who was not this week in wrestling?
However, this isn't your usual "who did good and who did bad" style column. No, this is the literal look at who's hot, who's not and who wore what this week.
Last week's winner of the 'who is your hottie of the week' poll with 60% of the final vote was *drum roll please* – Miss Rosa Mendes. Congrats you little hottie, expect a certificate of hotness in the post soon.
The winner of the 'who is your nottie of week' poll with 2/3 of the final vote was Sheamus – he may be King of the Ring but he certinly isn't King of the Hotties.
This week's edition is a Christmas Hotties 'n' Notties special – whether they've been good little girls who deserve a pony or bad girls who need a spanking these Divas and Knockouts aren't afraid to flaunt their best assets (sometimes flaunting a bit too much) for a captivating and very curvaceous photo shoot.
Numero Uno hottie of the week is Nikita, Katie Lea Burchill, Winter.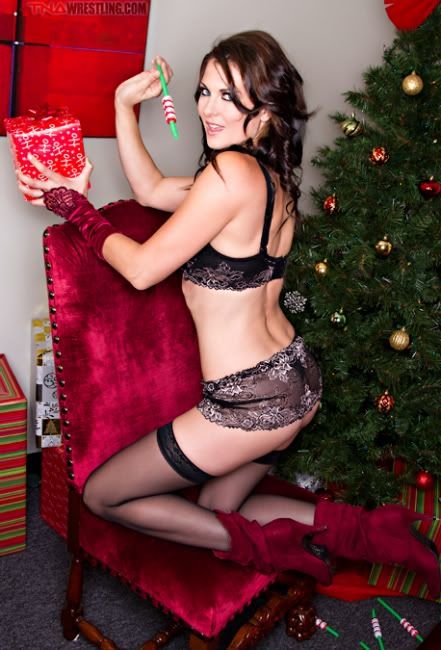 WOW! Winter, you sexy little minx you. In her first official TNA shoot, the new TNA Knockout delivers the whole package very well indeed. Everything about this girl is phenomenal, from her stunning natural beauty (no fake tan, boobs or ghastly extensions here – yes a female wrestler in TNA is au natural if you dare believe it!) to that alluring, come-hither stare.
The dark, lacey (oh how I miss Lacey Von Erich *cries*) lingerie set compliments her beautiful body exceedingly well and the black denier stockings add a touch of class and elegance – more girls should wear stockings nowadays, I think I'm going to bring them back into fashion.
I ADORE the slouchy red velvet boots, they are this season's hottest footwear and are selling like hotcakes all over the high-street, so congrats Winter, you truly are TNA's hottest fashionista.
Second prize goes to Maria.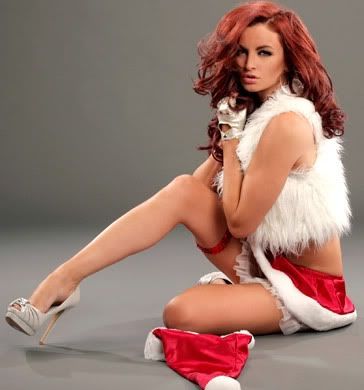 *starts singing Maria from West Side Story* – Oh Maria, you are one of the most if not THE most beautiful Diva of all time! (yes, she even beats Beth Phoenix and ya'll know how much I love her.)
Everything about the radiant redhead is perfect from her diamond cutting cheekbones to the ultra cute little chin dimple. Plus that body well, those legs certainly do go on and on for days *to quote her theme song* and that glimpse of a garter is a downright tease.
Maria is also a fashion forecaster sporting a bang on trend white fantasy fur cropped gilet. A peek of a tutu is a must-do next Spring/Summer to channel the 1950's look which was all over the Milan catwalks and the leather studded kiss in the sand glove is next year's hottest accessory. Well done Miss Kanellis, you predicted the hottest new trends before the designers even thought of them!
The Bella twins are my inbetweener choice this week.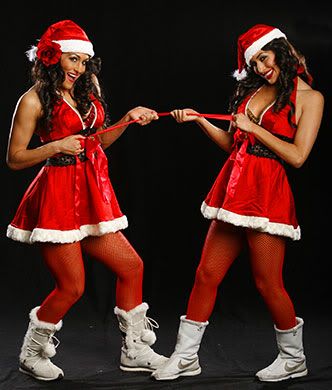 Oh dear god, they have somehow gone and done it again – they've taken what could be a stylish Christmas outfit and paired it up with some of the most atrocious, sick-inducing, horrible accessories ever known to mankind.
Let's start with the good though, the dresses are quite stylish, you could easily wear this ensemble to a Christmas themed party and remain top of the fashoinista league. The halter neck is channelling the pin-up trend while the black lace panels are very sexy and sultry (the dresses need steaming down though asap! – has nobody in WWE ever heard of an iron?)
However, after that it soon goes downhill, yes fishnets are a definite wardrobe staple in the life of a Diva – but think flesh toned not a tacky bright red. Yes it is Christmas but that's no reason to throw your fashion credentials out of the window.
Plus, those darn shoes! The less said about them the better, every time I glance at them I know that's an extra minute of nightmare fashion hell added to my sleep tonight.
First nottie of the week is Angelina Love.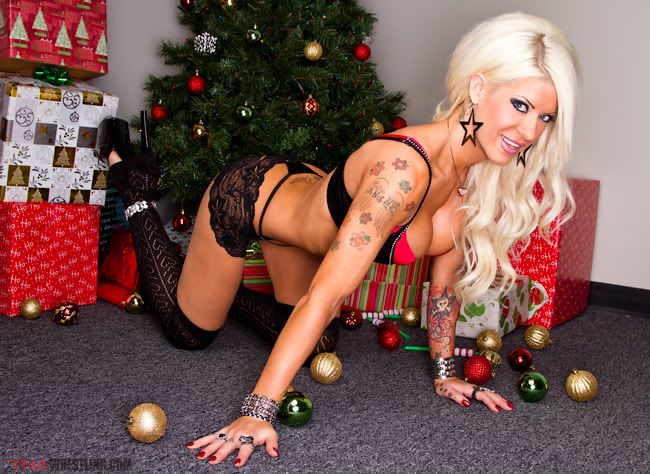 Angelina, sometimes you can get it so amazingly right and other times you can it get it so horrendously bad and this time my love (no pun intended) its definitely the latter.
First thing first, what is the with the two sets of lingerie?! – they neither match nor are Christmassy at all (well except for the red bra underneath the black one.) Yes you can't go wrong with a good ol' sexy pair of black French lace knickers but is there actually any need for the bejewelled g-string underneath them?
Plus, OMG those ugly as sin shoes, the last time I saw such a fugly pair were when I had to badger some quotes off a prostitute for a feature I was writing (don't worry I had a big burly photographer with me) – see, sometimes I can be a serious undercover journalist (only about once a year though.)
One thing I will gladly compliment the former Knockouts Champion on though are those heart adorned knee-high socks, you can't open a fashion magazine without seeing these hot-to-trot accessories on every page.
In last place as my most not-hot person is Michelle McCool.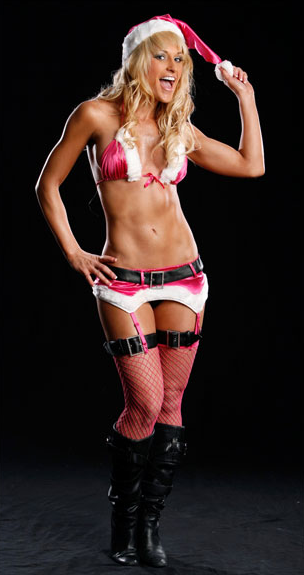 For goodness sake Michelle, cover your self up woman! I don't think The Undertaker would be too happy seeing his wife with nearly everything out – including things we don't really want too see.
This ensemble the former Divas Champ has got going on is quite frankly one of the worst outfits I have seen in a very long time (and I've just watched Orlando Jordan in his Hooters outfit on TNA this week so that's saying something.)
This pink velour hot mess definitely doesn't get me into the Christmas spirit; quite frankly I would rather miss the 25th December then have to watch McCool saunter around in this outfit shouting 'flawless' at people who don't give a damn.
Please vote in the poll below on your numuro uno hottie and not hot nottie of the week:
http://micropoll.com/t/KDwQ9ZBrB0 – hottie.
http://micropoll.com/t/KDwQ9ZBrB8 – nottie.
If you see any hotties or notties this week in wrestling or have a vintage pick you would like to see featured in the column please just leave a comment below.