The Weekly Round-Up #56 with Scalped, Hellboy, Incognito, Avengers, Flash & more
Welcome to the first column of 2011, although these books came out in 2010.  I wish everyone a happy and prosperous new year, filled with many great comics to read.  I had some time off over the break, so I took advantage of some amazing Boxing Day sales, and piled up on books to read, many of which are reviewed here.
Best Comic of the Week:
Wr
itten by Jason Aaron
Art by Davide Furnò
I guess Aaron is on a law enforcement theme with this book, as this is the second issue in a row to focus on an officer of the law.  The star this month is Nitz, the FBI agent who has been pursuing Lincoln Red Crow for some twenty years.  Nitz is a pretty obsessive guy, and in the face of his recent setbacks (his partner killed, his investigation a shambles), he has drawn the ire of his superiors.  As the issue opens, he is told that his case is being shut down, and that he can transfer or retire.
The rest of the issue is filled with Nitz processing this information.  His first instinct is to confront Red Crow, but that doesn't work the way he would like it to.  His second instinct is to commit suicide, but that is also a bust.  Instead, he tries for a variation on 'suicide by cop', with results that were actually pretty funny.
Aaron has done an amazing job of populating this book with people that you wouldn't exactly like or want to know, but whom you develop sympathy for none the less.  This issue is a good example of how he can get us inside a character's head.  The art, by Fuorno, is decent and works for this story.
Other Notable Comics:
Wr
itten by Joshua Hale Fialkov
Art by Rahsan Ededal
There's nothing better than going into a new comic with no expectations or preconceived notions, and being pleasantly surprised.  I only picked up the first issue of Echoes because I liked Fialkov's Tumor
, and because it was otherwise a light week for comics.
Echoes is about a man named Brian whose father is dying in a hospital or nursing home of Alzheimers.  We quickly learn that Brian and his father had a difficult relationship, and that Brian is in therapy.  Slowly, we also learn that he must take Clozapine to avoid having hallucinations.
With his dying words, Brian's father tells him to return to their old house and to retrieve a box from the crawlspace.  He also mentions girls' bodies.  Now, Brian's not entirely sure that he heard this, and as he explores the long-abandoned and ravaged house, he begins to question his perception, since he has skipped his medication.  I don't want to give away what happens in the basement, but I do like the way Fialkov has established that we don't really know what is real and what is in Brian's mind.
This book has a nice creepy feel to it, and Fialkov wastes no time in getting to the meat of his story.  Rahsan Ekedal's art reminds me a little of Charlie Adlard's, and makes good use of the book's black and white format.  The scenes in the crawlspace are amazing and haunting.  I haven't bought a Top Cow comic since the Jonathan Hickman Pilot Season comic, but I'm going to be getting this.
Wr
itten by Richard Starkings
Art by Axel Medelin and Marian Churchland
This issue of Elephantmen focuses exclusively on four of the women who make up the regular cast of this title.  The issue is split between two artists, each telling their own separate story, although the two stories are interspersed with one another.
Most of the book revolves around Vanity Case, Sahara, and Panya, Sahara's body double.  Vanity is still disturbed by her run in with the Simm robot a number of issues ago, and rightfully so, as the device is still stalking the streets, looking for her.  Sahara, meanwhile, is trying to enjoy her night out on the town, and ends up with Vanity.  Panya is given some space in the book, as we begin to explore her character a little.  This part of the book has art by Medelin, and it's all quite serviceable.
The real good stuff is the Miki part of the comic, with art by the always amazing Marian Churchland (read Beast
!).  Miki is still mad at Hip Flask, and the Elephantmen in general, but can't keep herself away from them either.  She ends up at The Watering Hole, the original Munt dive bar, where humans definitely aren't welcome.  A hippo who looks a bit like Hip Flask takes an interest in her, and volunteers to keep her safe while going over the less savory aspects of the community she wandered into.  It's a creepy scene, with a creepy ending I don't want to ruin.  Read it – it's good.
W
ritten by Mike Mignola
Art by Scott Hampton
With this two-part mini-series, Mignola brings Hellboy up against some vampires, which is so de rigueur for horror comics as to be almost insufferable, but he pulls it off.
The story is set in 1966, and has Hellboy tracking down a vampire who has been preying on guests at a particular inn.  He shoots her, but she manages to flee.  Tracking her, Hellboy meets an old man who proceeds to explain how he is the vampire's brother, and how his life has been spent in service to a very old vampire, and his two sisters (the other one is not quite a vampire – we will have that explained next month I assume).
Mignola uses this issue to explain some of the differences between North American and European vampires.  This is becoming a popular concept, and immediately made me think of Vertigo's excellent American Vampire
series.  There are some differences here though, and the story sort of ties in to the events of BPRD 1947
, which helps explain the general absence of vampires in Europe.
The art on this series is by Scott Hampton, who I believe has never worked on Hellboy before.  He is one of the best artists around for atmospheric, moody horror, and he applies these skills her very well.  I often enjoy the flashback stories and mini-series of Hellboy more than the ones set in modern times, and this series is no exception.
Wri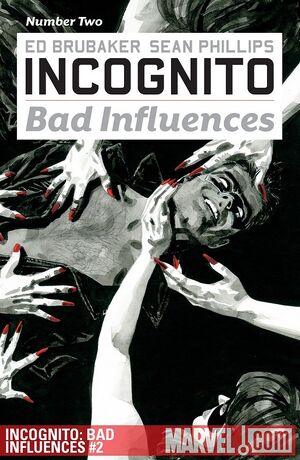 tten by Ed Brubaker
Art by Sean Phillips
I love reading comics by Ed Brubaker and Sean Phillips.  They work so well together, and construct books that are such a pleasure to read.
This issue is focused on Zack Overkill's efforts to return to the underground, as he intends to work undercover for the SOS, the do-gooder government agency in his world.  To establish his legitimacy in the criminal underworld, he violently escapes from 'custody', and then tracks down a brothel for the powered set.  He hangs out with an old friend, gets attacked, and is well on the way to beginning his mission.
What makes this comic stand apart from so much of what's on the stands is the way Brubaker writes Zack.  It's clear that he's become a better man, as he starts to worry about things that would never have bothered him before, but Brubaker is able to capture his ambivalence about the changes he's undergone.  For him to sit in a brothel and laugh with another criminal is a treat for him, although he now has to examine what's going on, instead of simply living in the moment.  Zack's a complicated character, although he really wasn't when the first series
started.
This is a solid, dense read, with wonderful art.  You should be reading it.
Quick Takes:
Avengers #8 – Just when I was ready to give up on this title, this issue is an improvement, mostly because a couple of things actually hap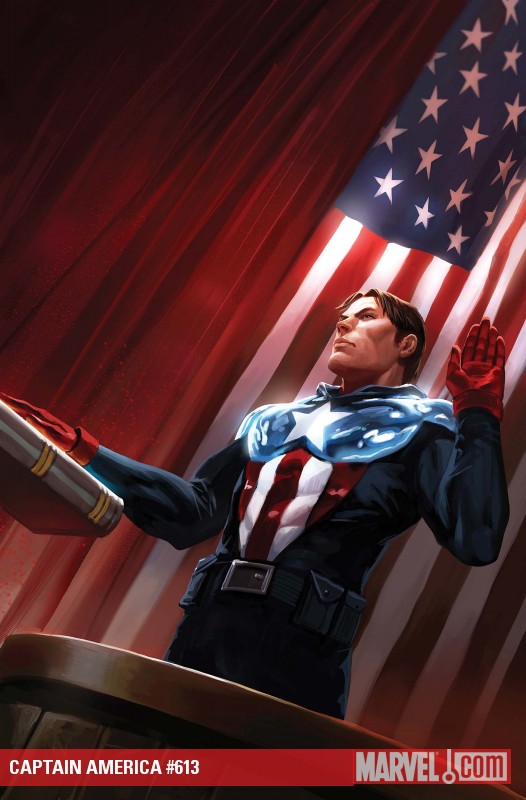 pen (or, will next issue, but it's guaranteed with this ending).  The Illuminati get together to figure out what's going on with the Infinity Gems, and then they go off to the Himalayas to get all CSI on things.  Romita's artwork is marginally better than it has been, and Bendis does a good job of writing the Illuminati scenes.
Captain America #613 – As the trial of Captain America begins, Bucky-Cap gets only a few pages to call his own.  The rest of the comic revolves around him still, but stage time is shared between Steve Rogers, the Falcon, and Sin.  Brubaker's pulled together another epic arc, and it's pretty good, even if the individual issues aren't always the most exciting when they stand alone.  I'm beyond bored with the Nomad back-up though.
Flash #8 – I guess I'm just a very optimistic person.  Frequently though, optimism is met with disappointment.  Or, in this case, almost total lack of coherence, as Johns desperately tries to make Professor Zoom an interesting character, and gets all cute with it in a time paradox sort of way.  Yawn.
Hulk #28 – More and more, I'm liking the Red Hulk as a character.  I didn't expect that to happen.  The main story in this book is pretty decent, the back-up Watcher story is just bizarre.
Justice Society of America #46 – This
issue is better than the last two, but I'm not sure I buy Jay Garrick as a cranky obsessive compulsive, and I don't really understand why, on a team the size of the JSA, they would need to pull in Blue Devil to help rebuild a city.  Mike Norton guest-drew this issue, which should be a welcome thing, except he didn't draw it in his usual style; instead it looks like he was trying to ape Scott Kolins's new style, which is unfortunate.  I'm not sure I'm going to stick with this title, but this issue at least puts me a bit closer to wanting to try.
Millar & McNiven's Nemesis #4 – Millar gets a little too cute with the ending of this series, and tilts things way too far into the realm of the implausible.    I don't expect I'll be coming back for Volume Two.
New Mutants #20 – I don't know, this title is getting pretty strange.  There's not much focus on the team, which is what I started buying the book for.  I know that Wells is making his exit, and so must be under the gun to tie off all his sub-plots, but it's not really working for me.
Secret Warriors #23 – What makes this such a cool comic is the way Hickman's always going back and showing us some behind-the-scenes stuff, or filling in gaps that we didn't always know were there.  In this issue, Sebastian Druid gets taken to boot camp, and gets to be the big hero again.  This series is getting close to its end, so I think it's cool that we still get these interlude issues.
S.H.I.E.L.D. #5 – W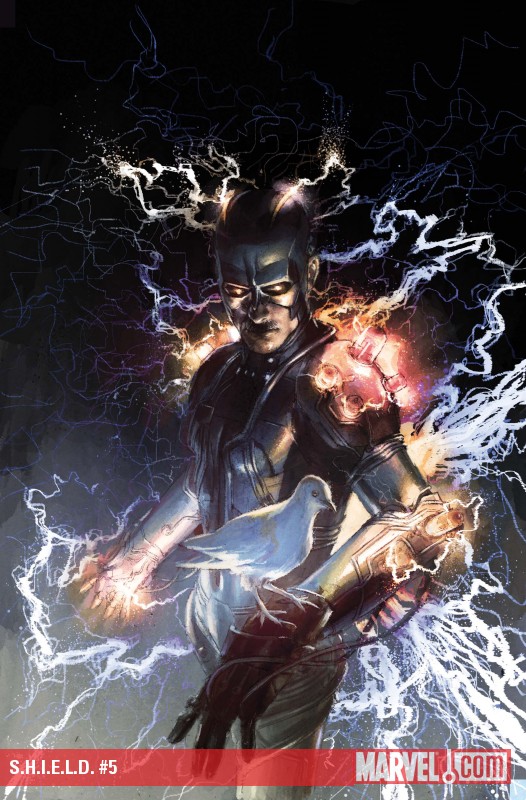 hile this series has always been pretty interesting, it's often been lacking in characterization.  Hickman makes up for that somewhat this issue, with more time on stage being given to Howard Stark and Nathaniel Richards, as they find themselves in some far-off future.  Back in the late 50's, Hickman moves the main plot forward by giving each year a double page spread explaining the rift in the Shield between Newton's and Da Vinci's factions, while the Star Child gets older.  Finally, we also learn the identity of the Night Machine, which doesn't really come as a surprise, considering how much comics writers like to include this historical figure in everything.  This is the strangest book Marvel is publishing, and still its most compelling.
Star Wars Legacy: War #1 – I don't really understand why Dark Horse needed to cancel this title and relaunch it as a mini-series.  Do relaunches still work as a way of pulling up sales numbers?  This is a great comic, but it's not all that new-reader friendly.  You can see that Ostrander has made an effort to bring anyone just now checking out the title up to speed, but that just resulted in a little too much exposition, as this book has a massive and complicated cast.  Still, I hope new readers give this a try (as I recently did), as Star Wars Legacy is the best Star Wars I've ever experienced.
Comics I Would Have Bought if They Weren't $4:
Action Comics #896 (I hope that the next issue of Secret Six makes sens without this)
Astonishing Spider-Man and Wolverine #4
Astonishing X-Men Xenogenesis #4
Bulletproof Coffin #6
Bullseye Perfect Game #2
Osborn #2
Ultimate Comics Thor #3
Widowmaker #2
X-Men To Serve and Protect #2
Bargain Comics:
Action Comics Annual #13 – I h
ave no interest in Cornell's Lex Luthor, but I'd heard a lot of good things about Marco Rudy's art on this comic.  I really liked his stuff on Shield, and still feel like he's going to be the next JH Williams (with whom he shares a sense of layout and an ability to change up his style).  The stories are okay – they're both "Young Lex" tales which have him apprenticing at the feet of the DCU's great villains – Darkseid and Ras Al Ghul.  The Ed Benes art is not to my liking though…
Amazing Spider-Man #649 & 650 – If the whole purpose of getting rid of Spidey's marriage was to return Peter to an underdog position, where he has to struggle to get through life, what was the thinking behind setting him up with the perfect job at a science lab?  Still, these are two very decent Spidey comics, as Phil Urich takes on the role of the Hobgoblin, and acts nothing like he did in The Loners, where I remember him being kind of likable.  Great Ramos art, and some good, dense storytelling from Slott makes me wonder if I should rethink having dropped this title.
Captain America: Forever Allies #2-4 – It's really nice to see Roger Stern's name show up in the front of some comics again, as he gives us this parallel story, set both during the War and in modern times.  It's a straightforward, old-fashioned superhero thing, with great Nick Dragotta art on the flashback sequence.
Captain America: Man Out of Time #1 & 2 – Mar
k Waid usually writes a strong Captain America, but this modernization of his return to the Marvel Universe at the hands of the Avengers is a little hokey.  Molina is providing nice artwork, but the story seems to lack an emotional centre, as Cap acts all crazy, and then gets teary-eyed over the death of Roosevelt.  It's all off, somehow.
Captain America: Patriot #4 – I really enjoyed this series, which chronicled the entire career of Jeff Mace, the Patriot, and for a while, Captain America.  This last issue is kind of slow, as Kesel seemed to want to give Mace a happy ending.  The Breitweisers did an incredible job on this series.  I know that a lot of these Captain America minis are getting completely overlooked (as they should be – there's too many of them), but this one is worth picking up in trade.
Chaos War: Ares #1 – When Michael Avon Oeming wrote the Ares mini-series a few years ago, he did a great job of reintroducing the character to the Marvel Universe.  The series also laid the groundwork for the Chaos War event that is going on right now, so it seemed fitting for Oeming to return to this playground.  This, however, has nothing to it.  It's mostly recap of the original series, and is a big disappointment.  Like Chaos War in general…
Deadpool Max #1-3 – As mu
ch as I despise Deadpool, I had to check out this comic, which is written by David Lapham and drawn by Kyle Baker.  Those two names are guarantees of off-the-wall insanity usually, and I was really curious to see how they would work together.  This is a deeply twisted, funny comic.  This comic is full of bizarre sexuality and outward racism (Baron Zemo runs a Klan-inspired separatist community, and is attacked by a Deadpool who has dressed as a hasidim).  Baker is drawing this in the same style he did Special Forces, and Lapham's just cutting loose.  I may have to start buying this on a monthly basis…
Frenemy of the State #3 – This title is a lot of fun.  I wish Weir and DeFilippis wrote more.
G.I. Joe Origins #21 & 22 – These issues are written by David Lapham and drawn by Werther Dell'Edera, so I expected something on a Vertigo level.  This is a story (with one chapter left to go) about Cobra indoctrination techniques.   I assume the Mad Monk is a regular in the series – I can only name about six of the toys – and that this stuff is significant, but who knows?  It's a good enough story, as we are able to peer behind the curtain of manipulation this poor guy goes through.  Dell'Edera does a good job, but it would have been cool if Lapham could have drawn this.
Ides of Blood #4 & 5 – I'm enjoying this series more and more, as the Vampyres plot revolution, and the identity of Caesar's killers stand revealed.  This is a well-researched, intriguing, and well-drawn comic.
Incorruptible #10 – 12 – This continues to be a fun comic.  I like how Waid is slowly building up the list of Max's friends, although the Headcase character is kind of annoying.
Incredible Hulks: Enigma Force #1 – Basically, this is a Micronauts comic, but of course, we can't call them that.  Rann has his team chasing Hiro-Kala
, because they want their planet back.  It's not a great comic unfortunately, considering my love of these characters.
Madame Xanadu #26 & 27 – I've liked the other installments in this Extra-Sensory arc, so I thought I'd give these two issues a try, although I was kind of disappointed in them.  The one with art by Chrissie Zullo looked like a childrens' book, although the ending was quite sad (unexpectedly so).  The second of the two, with art by Celia Calle was a strange story involving a succubus in Andy Warhol's circle.  The fact that Warhol and all his contemporaries were renamed with easily recognizable pseudonyms distracted me from the story completely, as I just spent time figuring out who everyone was supposed to be.
Star Wars Legacy #47 – 50 – These issues finish up the Star Wars Legacy run (although not really, as there is a new mini – see above) by giving us more of the same incredible writing and art that we've enjoyed all along on this title.  Every time I've written about this title, I've said the same thing – that it's Star Wars done properly.  These four issues cover a lot of ground, as the Sith wipe out all life on the planet Dac, and the Alliance/Jedi/Imperial alliance holds and strengthens.  Cade hunts down the butcher of Dac, which finally puts him and his friends in the same place as Admiral Stazi; the Imperial Knights rescue the Emporer's daughter from the Sith, and everyone learns that Darth Krayt, the big bad, is still alive.  There is a lot of convergence in this arc, and it all plays out great.
The Week in Graphic Novels:
W
ritten by Jamie Delano
Art by Jock
It's nice to see Delano come back and write John Constantine again in this original graphic novel
.  Delano didn't create the character, but he did write the first
pile
of
issues
of the comic, and worked to establish Hellblazer as the flagship Vertigo title, not to mention its longest lasting.
In this book, Delano returns Constantine to his classic form – he's wearing the trenchcoat, smoking, and bossing poor Chas around like it's still the early nineties.  John sees and becomes interested in a woman wearing a niqab on the tube, and follows her to the British Museum just in time for bombs to go off and pandemonium to break loose.  It turns out that the woman is working for British Intelligence, and soon enough, John and her are off to Baghdad to deal with a man in American custody who seems connected to the supernatural.
What unfolds is a fairly typical Constantine story, complete with a stint in Hell and a demonic game of poker.  Delano writes a great Constantine – the off-hand cruelty and manipulation are front and centre – and it's nice to see John interact with such a different world.  Lately, Delano's writing has become increasing purple (read his Rawbone
– it's out of control), although he keeps a handle on it here.
Jock's art is always great.  I love his panel design and the way in which he constructs a page.  This is a good book.
Writ
ten by C. Allbritton Taylor
Art by Jim Rugg and Cary Porter
This is a real oddball of a graphic novel
.  It's written by a guy who's in the Dandy Warhols
, and it's about a German industrial band who were famous in 1977.
One Model Nation were right in the thick of things in late-70s Berlin.  They were performing in illegal venues, and their concerts frequently became the scene for shoot-outs between the Red Army Faction and the police.  The band themselves were apolitical for the most part, but they seemed incapable of separating themselves from the time and their surroundings.
The book chronicles their time, as they have their studio tossed by the police, and as they argue with each other.  They end up getting involved with the Baader-Meinhof Gang (one of the guys is perhaps dating Meinhof I think), and lots of stuff happens.  The problem is that it's none to clear for someone who hasn't spent years studying post-war Germany.  I think that a lot more exposition is needed, as the writing doesn't always make it clear as to what the context is to these different scenes.  I would have been happy with at least a foreword to explain some of the politics.
Rugg's art is the best thing about this comic, which is not really a surprise.  While lacking the wild excesses of Street Angel
and Afrodisiac
, Rugg does a great job of portraying the band members as individuals (which is not easy when they all have the same hair cut and dress the same), as well as showing the austerity of Berlin after the war.  This is an entertaining comic, although it never quite recovers from the flaws in its writing.
Wr
itten by Alex Grecian
Art by Riley Rossmo
I believe that this graphic novel
, which retells a classic Chinese fairy tale (which has its analogues in the West and in Turkey as well), is the first collaboration between the Proof team of Grecian and Rossmo.
The story, transplanted from China to Gold Rush-era California, is about seven identical brothers who each have a unique ability (or super-power).  When some children fall through some ice and begin to drown, one brother uses his abilities to suck up all the water from the river.  He can't hold it as long as is needed though, and when the water flows out of him, the children and a couple of other people are swept away and drown.  The townsfolk blame the brother, and come after him.  Not knowing about his family (the brothers only ever went into town one at a time it seems), they end up confronting each of the brothers in order, as circumstance provides each with the opportunity to use his abilities.
The story reads nicely, and I like the modern framing sequence.  Rossmo's art is always a little difficult to interpret at times, and that seems to be exacerbated by the black and white pages and the liberal use of black ink he uses.  I like the way he draws, but he is not always the clearest storyteller.  I also found the oversized earlobes on the brothers to be distracting and kind of weird.  Is there a historical precedence for this?
This book has a lot in common with Proof
.  It's clear that Grecian has a great love for folklore, and he provides an interesting essay about the antecedents to this story.  As with most AIT/PanetLar books, this one is pretty unusual, and uncommon.
Writ
ten by Andrew Cosby and Michael Alan Nelson
Art by Ayhan Hayrula
It's been a while since I've read a story like this
.  Swordsmith Assassin is a typical example of the Western idea of a Japanese story.  Toshiro Ono is a legendary swordmaker, who, unlike his equally famous father, was willing to sell his swords to anyone that wanted one.  When his family is killed by a robber using one of his swords, he decides that he will track down and reclaim all of the swords he's made, and cast them into the ocean.
This quest takes many years, as he has to learn how to use a sword, and comes across other obstacles, such as figuring out a way to enter an impenetrable fortress, and to heal from a number of wounds at different times.  Ono demonstrates great vision and singularity of purpose, as his journey takes him as far as West Prussia.
What I like about this comic is the way in which the writers incorporate the history of the time period, and set the story against the backdrop of the Boshin War, and the Franco-Prussian War.  I'm always a sucker for historically accurate and researched stories, so this worked well for me.
I really like Hayrula's artwork.  He has a nice realistic style, and a strong sense of layout.  Searching the internet, it seems he hasn't done any comics work since this book, which is a shame, as I'd like to see more of his stuff.
by Da
vid Malki
I first came across David Malki's bizarre collage comics in a volume of Myspace Dark Horse Presents
, and then tracked down his website.
Malki builds his webcomics in the classic newspaper strip format of between one and five horizontal panels, but he doesn't draw them.  Instead, he cuts out figures and images from 'old-timey' publications, populating his strips with men in top hats and women in multi-layered, ruffled dresses.  They drive old fashioned cars, and everything has a very Victorian look to it.
However, the dialogue and context of the strips is very modern, and this where much of the humour lies.  Malki does a great job of playing with peoples' expectations, and subverting the reactions we are conditioned to have to these types of images.  This book
collects a number of his strips, and one longer-form comic.  Each strip has his alt-text included below it, which is often the location of the punchline.  The comics are mostly funny, although Malki's sense of humour sometimes goes too far into the surreal for my liking.  I recommend checking out the site, and getting a feel for his work before grabbing one of the books.
Album of the Week:
Next Stop… Soweto Vol.2: Soultown, R&B, Funk & Psych Sounds from the Townships 1969 – 1976
Tags: Action Comics, Amazing Spider-Man, Ares, Avengers, Boom, Captain America, Chaos War, Dark Horse, DC, Deadpool Max, Echoes, Elephantmen, Hellblazer, Hellboy, Hulk, icon, Image, Incognito, Incorruptible, Justice Society of America, Madame Xanadu, Marvel, New Mutants, Oni Press, Scalped, secret warriors, SHIELD, Star Wars Legacy, The Flash, Top Cow, Vertigo, Wildstorm
About The Author
James Fulton
What would you like to know?